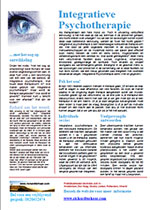 Integrative Psychotherapy is the result and cumulative effect of an ongoing search. It finds its basis in all the different schools of thought in the world of psychotherapy and how they contribute towards achieving effective means for psychological change. Not only does the therapist draw from his expertise in various therapeutic techniques, but he is also devoted to ensure putting his skills to work in assisting the client in his quest for his best being. Most important here is the client as a whole being, who (re-)discovers clarity specifically on his wholeness and how intervening on a subconscious level effects the sum of the parts, rather than a mere change on surface level. The client works actively on personal development, bears responsibility and builds bridges to solutions, where he (sometimes subconsciously) is always the foundation pillars.
Richard offers his services as therapist (PIT) under the supervision of the Dutch Academy for Integrative Psychotherapy.
Locations for therapy include Amsterdam, Rotterdam, Den Haag, Utrecht, Leiden and Gouda, and can be conducted in Dutch and/or English.